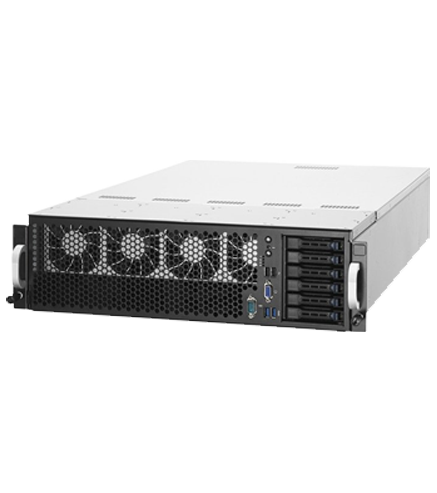 Servidor HPC para Rack ASUS ESC8000 G3 
Rendimiento Everest con 8-GPU
El servidor ESC8000 G3 ha sido creado después de un largo tiempo de trabajo en el campo de los HPC. Además admite hasta 8 tarjetas GPU de doble cubierta, además de que ha sido totalmente optimizado ofreciendo un nuevo diseño termico tanto para CPUs como para GPUs. Este nuevo superordenador está basado en la familia de procesadores Intel® Xeon® E5-2600 v4 / v3. También presenta una colocación de ventiladores paralelos redundantes y un túnel de aire dedicado para GPUs individuales.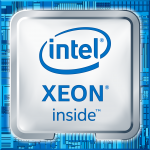 Procesador
QPI 6.4 / 8.0 / 9.6 GT/s
2 x Socket R3 (LGA 2011-3)
Intel® Xeon® processor E5-2600 v4 product family (145W)
Intel® Xeon® processor E5-2600 v3 product family(145W)
Core Logic
Sistema Operativo
Microsoft Windows® Server 2012, 2012 R2
SuSE® Linux Enterprise Server
Windows® Server 2008 Enterprise R2 SP1 64-bit
Ubuntu
CentOS
RedHat® Enterprise Linux
Windows® Server 2016
VMware
Citrix XenServer
Memoria
Slots totales: Un máximo de 1536GB LRDIMM
Capacidad: Máximo hasta 2048GB RDIMM
Tipo de memoria:

DDR4 NVDIMM 1333/2133 /2400 /1600/1866*1
1600/2400 /2133 /1333/1866 LRDIMM DDR4*1
1866/2400 /1600/1333/2133 DDR4 RDIMM*1

Tamaño de la memoria:

16GB, 4GB, 8GB, 32GB RDIMM
64GB, 32GB LRDIMM

Total de Slots

24 (4-channel por CPU, 12 DIMM por CPU)
Almacenamiento
Controladora SATA:

1 x M.2 connector (2280/2260/2242)
Intel® Rapid Storage Technology Enterprise(RSTe) (For Windows Only)
(Support Software RAID 1, 0, 10, 5 )
LSI® MegaRAID (For Linux/Windows)
(Support Software RAID 0, 1, 10 )
6 x SATA3 6Gb/s ports
Intel® C612

Controladora: SAS

ASUS PIKE II 3108 8-port SAS HW RAID card*2
ASUS PIKE II 3008 8-port SAS HBA card*2

Bahías: 6 x bahías HDD de 2.5" con interconexión en caliente (hot-swap)
Almacenamiento externo FDD/CD/DVD

1 x Slim-type Optical Drive Bay
Options: No Device / DVD-RW
(DVD-RW default for North America)
Ranuras de expansión
Total: 8 + 3

Full-length/Full-height: 8 x PCI-E 3.0 x16 (x16 Link) + 1 x PCI-E 3.0 x16 (x8 Link)
Half-lenth/Low-profile : 1 x PCI-E 3.0 x8 (x8 Link)
Gráfica
Aspeed AST2400 with 32MB VRAM
Controlador de Red
2 x Intel® I210AT + 1 x Mgmt LAN
E/S
3 x RJ-45 ports (One for ASMB8-iKVM)
InfiniBand (opcional)
PEM-FDR
PEB-10G/57840-2S
PEB-10G/57811-1S
Solución de Administración
ASWM Enterprise
Default 1 x ASMB8-iKVM for KVM-over-Internet
Alimentación
2+1 Redundant 1600W 80PLUS Platinum Power Supply;
1000W: 100-127 Vac, 12.9 A, 47-63 Hz, Class I
1600W: 200-240 Vac, 9. 5A, 47-63 Hz, Class I
Chasis y Dimensiones
Servidor para rack de 3U
Las siguientes dimensiones no incluyen la carcasa ni la fuente de alimentación redundante:

Anchura: 44,7 cm (447mm)
Altura: 13,06 cm (130.6mm)
Profundidad: 75,9 cm (759mm)
Peso: 29.2Kg (sin incluir CPU/Memoria/HDD/Tarjetas añadidas)
Condiciones Ambientales
Temperatura en funcionamiento: de 10ºC a 35ºC / Temperatura apagado: de -40ºC a 70ºC
Humedad apagado: de 20% a 90% (sin condensación)
Ventilación
7 x Sistema de Ventiladores (80mm x 38mm)
Humedad apagado: 20% ~ 90% (sin condensación)
Accesorios de la caja
1 x MB Support DVD
1 X ASWM Enterprise DVD
1 x ASMB8 SDVD
1 x Bag of Screws
3 x AC Power Cable
16 x GPU air ducts (8 for Intel Xeon Phi; 8 for AMD/Nvidia)
8 x mylar for GPU air ducts for AMD GPU cards
16 x VGA power cable
8 x VGA power cable for Nvidia 300W and above cards
Elementos Opcionales
PEM-FDR
PEB-10G/57840-2S
PEB-10G/57811-1S
PIKE II 3108
PIKE II 3008
Plataforma de rendimiento escalable
El servidor cuenta con 8x GPU NVIDIA® Quadro® P6000 es una plataforma que le ofrecerá el mejor rencimiento, además de una escalabilidad con los flujos de trabajo cada vez más exigentes para la fabricación a medida en la que su negocio vaya creciendo. El ASUS ESC8000 G3 ha sido sometido al riguroso proceso de certificación VCA de NVIDIA para escalar y creder en su centro de datos.
---
El poder del cómputo híbrido, la Alta Densidad
Con todo lo que ofrece el ASUS ESC8000 G3 podemos hablar de una solución térmicamente inteligente, por lo tanto es ideal para las aplicaciones en el campo de la vida y al ciencia médica, la ingeniería, el modelado financiero o la virtualización.
---
Solución térmica optimizada y sistema de ventilación inteligente III
Principalmente lo que buscamos en un equipo es que tenga buena ventilación, además de un buen rendimiento y un menor coste de funcionamiento. Con ASUS ESC8000 G3 contamos con una colocación de ventiladores redundantes paralelos frontales que crea túneles de aire dedicados para CPU y GPU individuales, 4 de ellos en 1U de altura para las CPU mientras que ocho ventiladores en altura de 2-3U para GPU. Por consiguiente contamos con cuatro de respaldo, ofreciendo la mejor solución térmica ahorrando energía.